The RetinaStation system is
a fully-automatic,
non-mydriatic 45° retinal imaging device
with an eye to the 3 smart features.
For practitioners, the new model is well thought-out in many ways.
They include ease of use, top-quality image capturing, stand-alone design.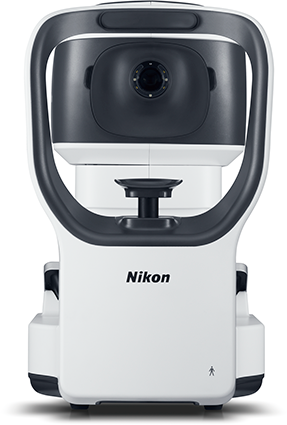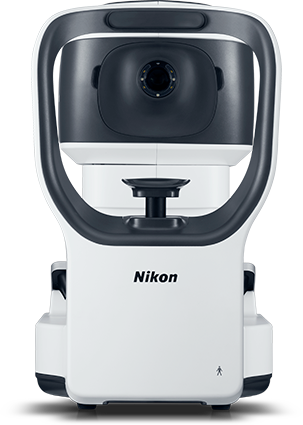 The touch panel is large and eye-friendly. Functionality includes single-tap, as on a sensory tablet screen, for complete imaging and other diagnostic functions.
The RetinaStation is equipped with an easily-viewable 10.1" touch panel. A single tap allows you to check each of the eyes, to photograph its fundus and anterior segment, to create auto-montages from wide-angle images and for other functions. The system takes care of all the rest. Pinch to zoom in and out images as you do on tablets.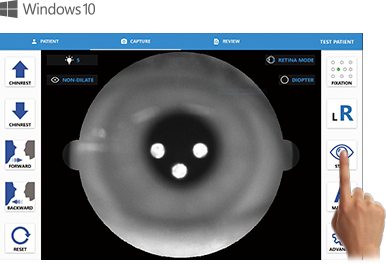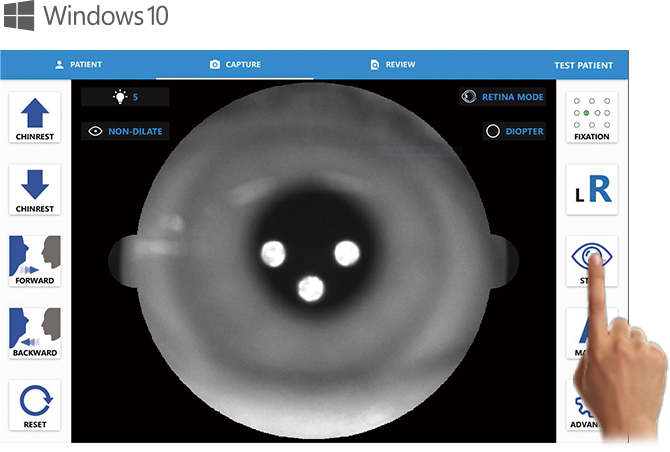 Just one tap for all photographing steps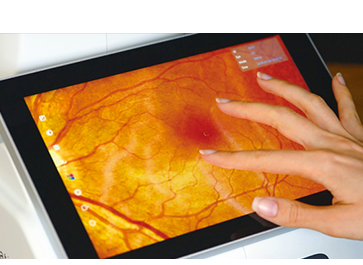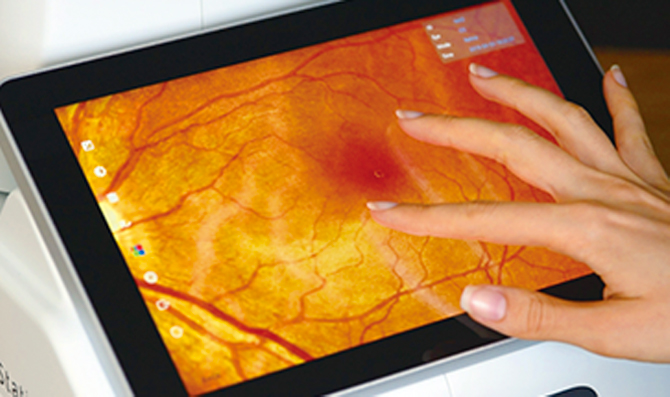 Pinch-in and pinch-out as on touch panel

The across-the-retina zone up to the periphery can be reliably rendered by the resolution as high as 12 million pixels.
The RetinaStation with a high resolution of 12 million pixels is easy to use. Reliable rendition is notched up in usual imaging and also in enlargements and photo-montages. Sharp area-to-area images help increase diagnostic accuracy.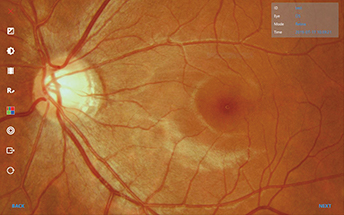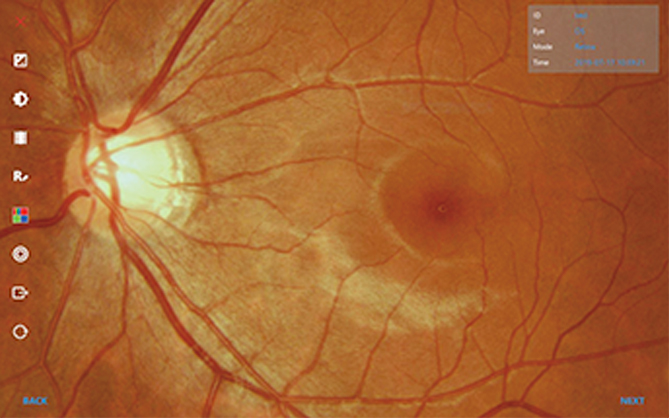 Photo Viewer: Enlarged view of full-auto-captured image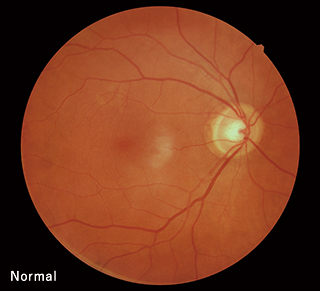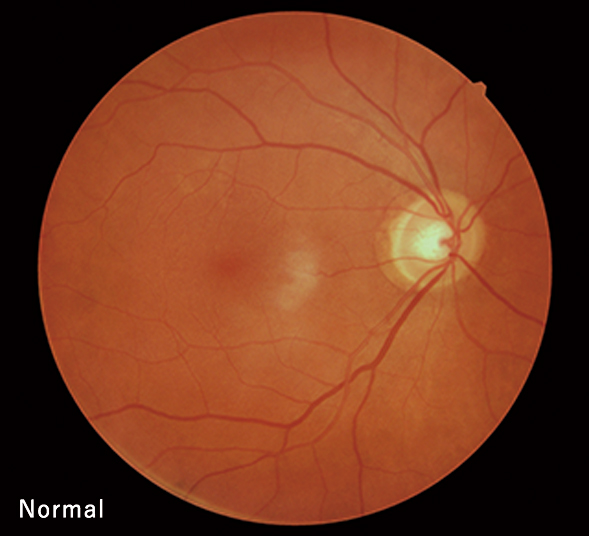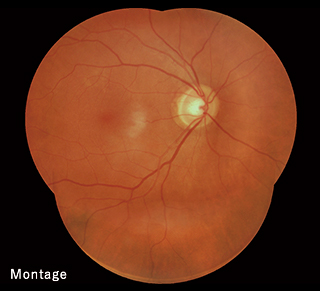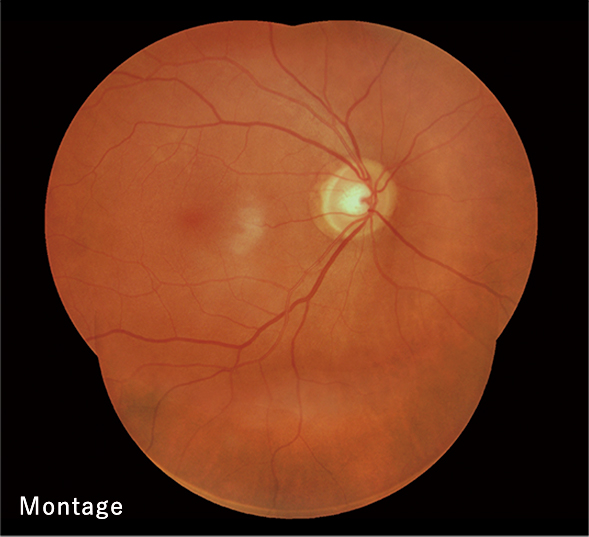 The on-board computer has the Windows 10 OS and dedicated software pre-installed. The self-contained system enables imaging as well as editing, and saves your desk space.
A viewer tool and other useful applications are pre-programmed on the RetinaStation computer (Windows 10 OS). The all-in-one computerized design provides you with everything for imaging and editing. There is no need to connect an external computer or other devices allowing you to save your desk space.

Connectable with a notebook,
print server and/or other devices.

Reducing burden on patients in eye exams
The RetinaStation non-mydriatic retinal imaging system needs no ocular instillation before exams. For imaging, ocular fixation can be flexibly positioned and light intensity adjusted in 10 levels to suppress glares. What's more, the full-auto-shot function shortens exam time. The system is also configured for patients to feel psychologically secure, which means helping to reduce strains on patients during retinal exams.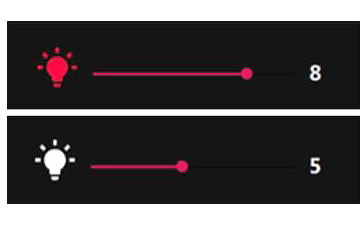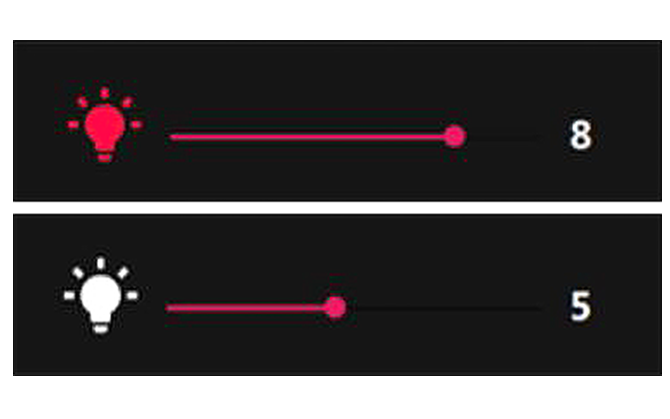 Lighting control: Imaging light intensity adjustable in 10 levels

Product

RetinaStation

Function
Value / Type
Remark
Fundus image
Non-mydriatic, color image
Field of view
>= 45 degrees
Illumination for retina image (capture)
White LED
Flashes for capturing images
Cornea image (capture)
White LED
Flashes for capturing images
Illumination during alignment to patient's retina
NIR LED
Central wavelength in the range of 735 – 850 nm
Focus diopter adjustment range
-15 D to +10 D
Without compensation lens
-30 D to -10 D or +5 D to + 30 D
With compensation lens
Minimum pupil size
4 mm
Focus adjustment
Auto / manual
Split-image technique
Image sensor
CMOS 12 megapixel
Z-ranging (working distance)
2 fiber dots
Working distance
25 mm from lens to cornea
Accuracy : +/- 0.5 mm
Fixation
Internal
10 points
General

| Function | Value / Type |
| --- | --- |
| Alignment | Fully automatic 3D tracking |
| Alignment mode | Full auto / auto / manual |
| Chin rest | Motorized |
| Interface | USB 2.0 port, LAN, HDMI |
| Input / output format | Image format : JPEG, PNG, BMP, DICOM |
| Display | 10.1" LCD monitor, touch panel |
| Operation range | Front / back : 40 mm Left / right : 90 mm Up / down : 30 mm |
| Chin rest range | Up / down : 70 mm |
| Dimensions | Depth : 495 mm Width : 288 mm Height : 495 mm |
| Weight | 17 kg |
*The USB interface is used for connecting a USB mass storage device.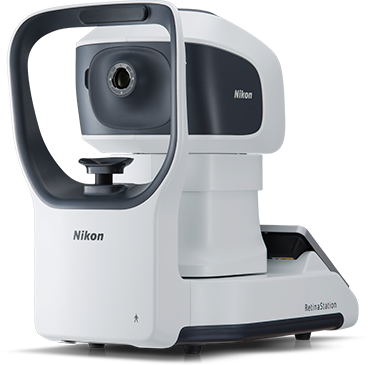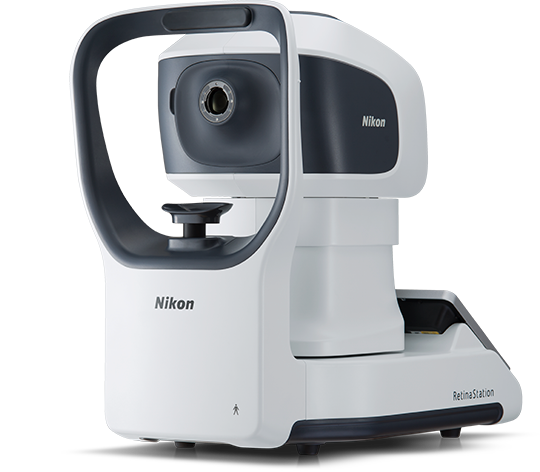 * The official name of Windows® is Microsoft® Windows® Operating System.
* Microsoft and Windows are registered trademarks of Microsoft Corporation in the United States and / or other countries.
* Windows® 10 is a product name of Microsoft Corporation in the United States.
Please note that Windows® 10 is described as Windows 10 in this web site.