Overview of Life Science Solutions
Supporting life sciences with innovation in biological microscopes
Life Science Solutions is the main pillar of the Healthcare Business Unit. Its starting point was the "Joico microscope" which Nikon designed and first marketed in 1925.
During the about 100 years of technological development history since then, we have worked with countless researchers, in universities, private research agencies, and elsewhere, building the abundance of experience and knowledge that is our foundation now. Our various biological microscopes optimized for different applications, advanced image-analyzing technology and cell analysis/evaluation/selection technology and services are utilized in a diverse range of life sciences research fields, and form the core of our Healthcare Business Unit.
The technology supporting Life Science Solutions
The microscopes at the core of Life Science Solutions can be described as a crystallization of the optical technologies that are Nikon's core competence. Up till now, we have achieved a succession of breakthroughs that have changed conventional ideas about microscopes. For example, the super-high-resolution microscopes we developed around 10 years ago enabled observation at resolutions exceeding 200nm, which had previously been called the resolution limit in optical theory.
In recent years, we have developed multi-photon microscopes using super-short-pulse lasers. These developments made it possible to observe the deeper parts of living tissues and cells. We also support problem-solving and research/product development through our image-processing technology and know-how of observation and evaluation of cells that have been cultivated over many years.
Using such technology "to make the invisible visible", we continue to generate new value in the most advanced research fields.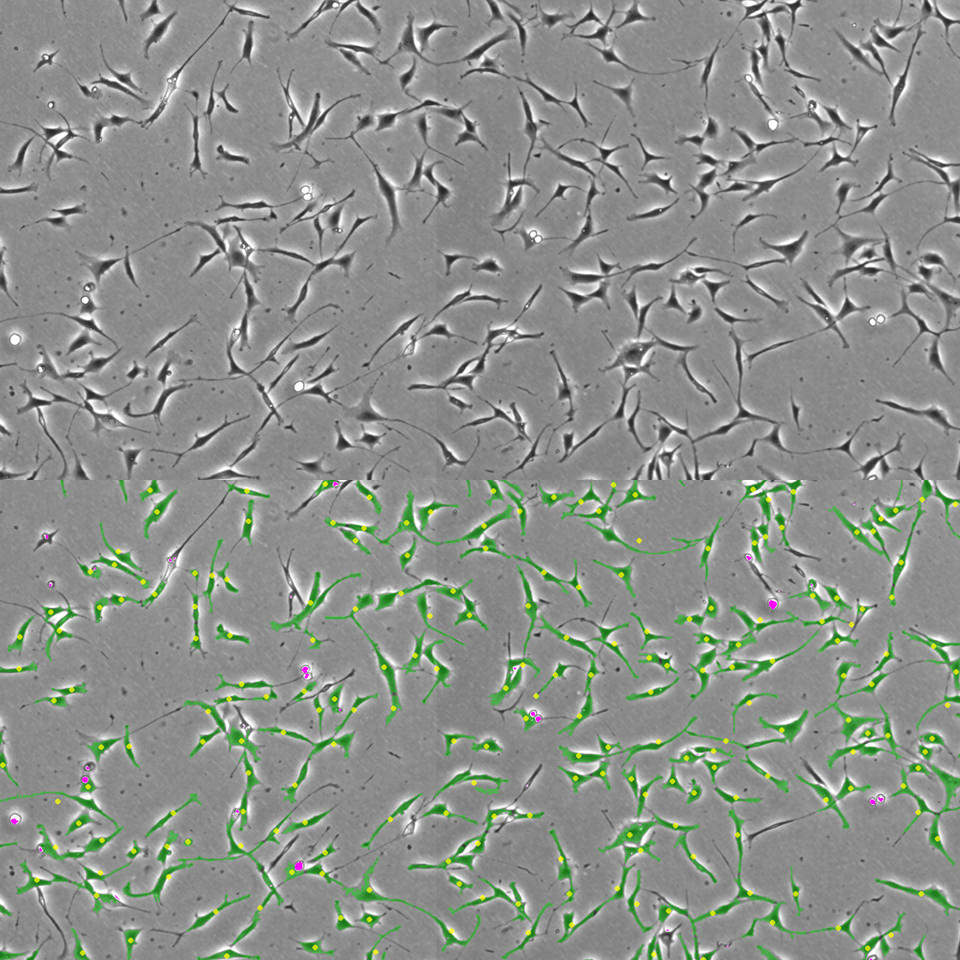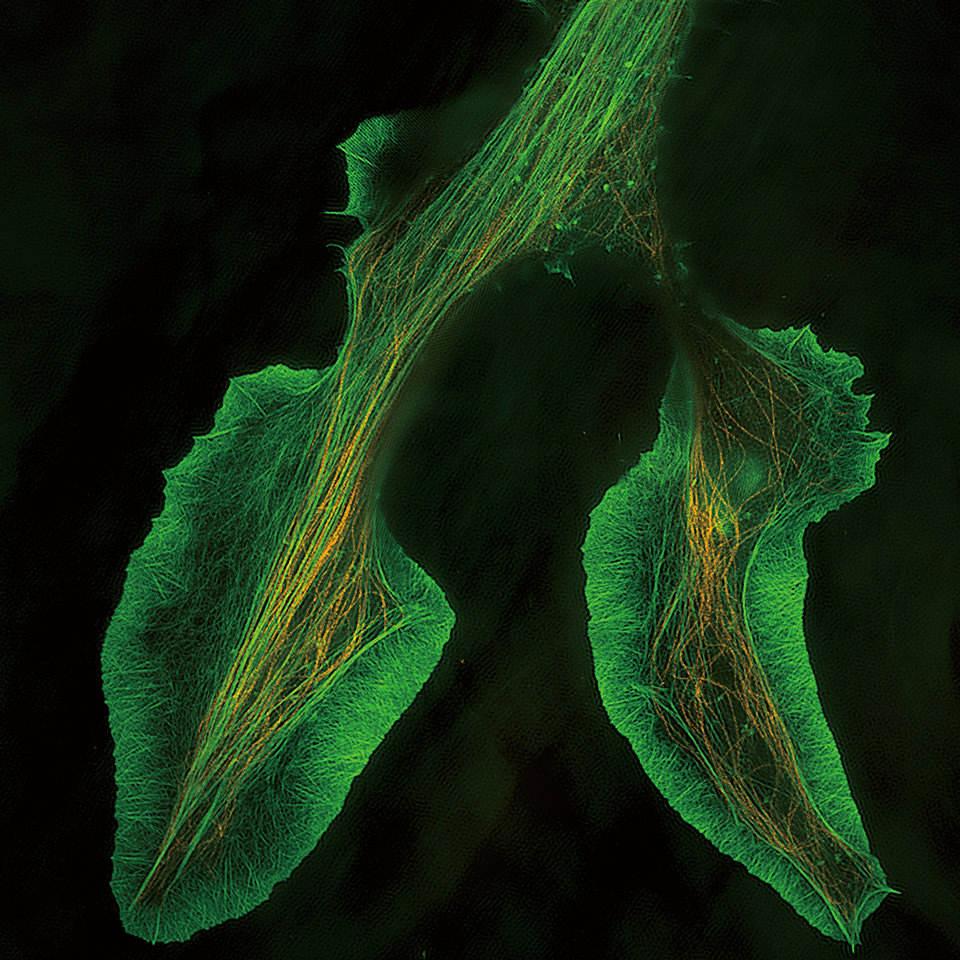 Future prospects
Microscopes have been constantly evolving throughout their history, and have made great contributions to elucidating the various mechanisms of life. Currently, there is increasing demand for superior microscopes and microscopic image-processing technology for the most advanced fields of regenerative medicine, drug creation, and preventive medicine.
"Cell quality evaluation" for stable, high-quality cell manufacturing, "Drug discovery assay" that supports drug discovery using cells, and a "Cell selection platform" that enables individual cell management in the cell field are also indispensable. These are all closely related to each other and generate great synergies.
We will continue to deepen our communication with researchers active in such areas, as we support the further evolution of the most advanced fields of life sciences research, in order to create new possibilities that can effectively contribute to the health of people everywhere.
Overview of Eye Care Solutions
Searching for quality of vision
The Quality of Vision (QOV) that Eye Care Solutions aims for is intended to improve the quality of how each individual person sees. It is a new concept that has attracted attention in developed countries where populations are aging. One of its themes is the early detection of diabetic retinopathy, cataracts, and glaucoma, and the suppression of their progression. For the purpose of contributing to human QOV, we subsidiarized the UK company Optos, holder of the world's leading share in retinal imaging cameras, in 2015. We are now working to spread the use of the ultra-widefield scanning laser microscopes that are its main product, and we want to move forward by providing new solutions that match the latest optometric technology, image analysis technology, and other elements.
The technology supporting Eye Care Solutions
Optos' ultra-widefield scanning laser microscopes can capture high-resolution images of the retina with the ultra-widefield (UWF™) of 200°, compared to the 45° achieved by conventional microscopes. That makes it possible to cover 80% of the ocular fundus, helping physicians reach accurate diagnoses. If the pupil diameter is at least 2mm, there is no need to use a dilating agent, so the subject can do things like drive a car immediately after the examination, so there are benefits for patients too. Optos' most advanced devices use long-wavelength lasers to capture cross-sectional images of the eye, enabling accurate diagnosis of conditions such as age-related macular degeneration, which had been difficult before.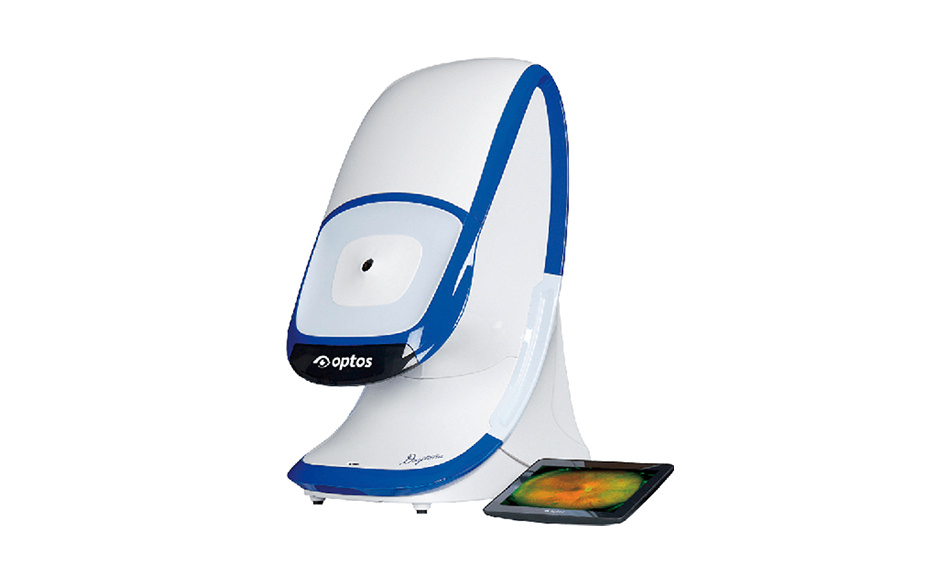 Future prospects
Introducing Nikon's optical and image analysis technologies to Optos' unique technologies in future will bring in synergies. We are also working on the use of artificial intelligence (AI) on retina images for new diagnostic solutions. We hope that such efforts will assist to some degree in reducing loss of vision due to causes such as diabetic retinopathy.
In the future, the information gained from retina images could lead to advances such as earlier discovery of signs of heart disease and other conditions. We will go on contributing to people's healthcare, starting by searching for QOV.
The use of artificial intelligence (AI) in the screening of retinal images has the potential to reduce the risk of vision loss from diabetic eye diseases.
Nikon and Verily Life Sciences LLC* (United States; referred to below as "Verily", formerly known as Google Life Sciences) are collaborating on developing screening solutions using Machine Learning. Our goal is to help reduce the risks of vision loss due to diabetic retinopathy and diabetic macular edema.
Machine Learning is a subset of AI, delivering high performance in fields such as image recognition. Working from tens of thousands of high-resolution retinal fundus images captured with Optos ultra-widefield retinal imaging devices, we are training the algorithm using image grading from highly-respected reading centers. The AI we are developing will be built into systems to be used in medical facilities to provide quick screening results.
Future prospects
Our current focus is to develop AI screening to reduce the risks of vision loss from diabetic retinopathy and diabetic macular edema. In the future, there is the potential to extend into other diseases. The eye is the only organ that allows a direct view into the human body. We anticipate that using analysis from high-definition images of blood vessels seen within the retina will allow early detection of other diseases. If we can build solutions to widen the range of target diseases we may be able to help develop the future of medicine.
*Verily Life Sciences LLC

:

Verily is focused on using technology to better understand health, as well as prevent, detect, and manage disease. Our mission is to bring together technology and life sciences to uncover new truths about health and disease.
To the Eye Care Solutions page
Overview of Contract Cell Development and Manufacturing
The world's highest-level contract cell manufacturing service for regenerative medicine in Japan
Contract Cell Development and Manufacturing provides the world's highest level of service related to contract development and manufacture of cells for regenerative medicine and gene therapy to customers including pharmaceutical companies and bio-ventures, which contributes to the practical application and development of regenerative medicine in Japan.