Evaluate culture conditions by accurately measuring the number of cells and growth rate in hPSC colonies without detachment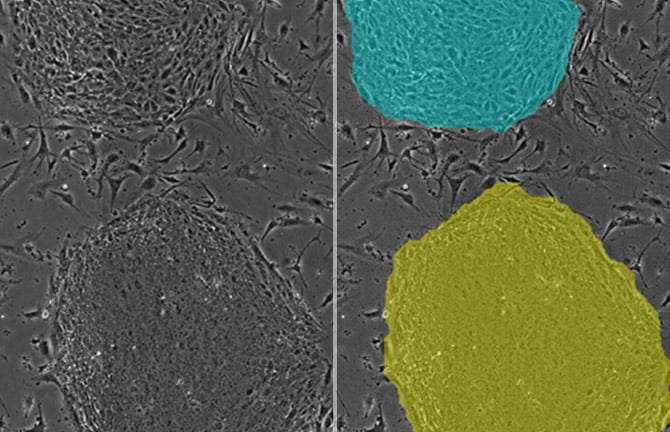 Points
Cultured hPS cells in various proliferation states, from a single cell state to a colony state, can be accurately counted from phase contrast images.
Overview
It is important to measure hPSC proliferation rate as part of a cell quality evaluation process. Maintenance of consistent culture conditions requires knowing the cell count at the time of passaging, which allows for appropriate adjustment of seeding density.
Current
Issue-1


There are few methods for counting cells in colonies

hPSCs proliferate by forming colonies. Cell morphology within colonies changes over time, making it difficult to determine how much cells are proliferating by direct visual observation. Consequently, operators are left with no choice but to passage cells even when it is unclear if the cell count is high enough to obtain an adequate seeding concentration.
Issue-2


The rate of proliferation cannot be measured

When measuring cell proliferation rate, cells are ideally counted while in the same culture vessel and at a regular interval. However, cell counting by way of dispersing cells is a destructive inspection method requiring several measurement samples generated using the same seeding conditions, and always resulting in loss of cells. Securing enough samples can pose its own challenge.
Solution
Cultured hPS cells in various proliferation states, from a single cell state to a colony state, can be accurately counted from phase contrast images.Images of cultured hPSCs are captured, and image analysis applied to cell counting. The number of cells in each of the sparse and dense parts of the colony was calculated using a cell counting equation that was pre-correlated to the results identified by nuclear staining.
With the BioStudio-T, a cell observation system that can be installed inside an incubator, high-resolution stitched images of the entire cell culture vessel can be automatically captured without perturbing the culture environment.Cell image analysis software Cell Analysis ModuleCell observation device BioStudio-T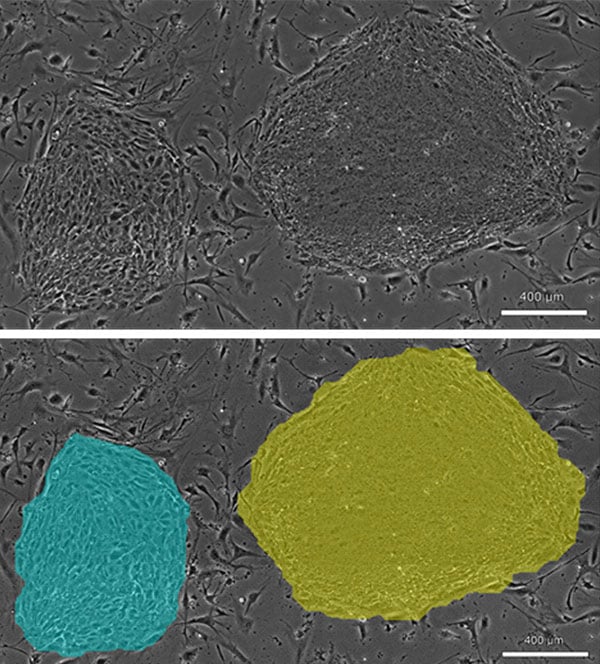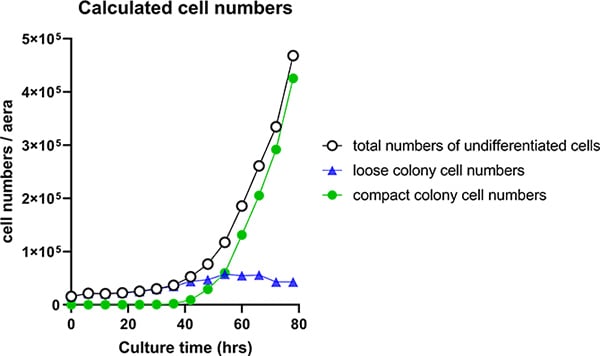 Utilization scene
For adjustments to cell seeding rate following passaging.
As an evaluation index for establishing culture processes
Assessment of the effects of culture conditions (media composition, passaging methods, variable procedures among operators, etc.)
Comparison of prolificacy among cell lines.
Cell image analysis software


NIS-Elements Cell Analysis Module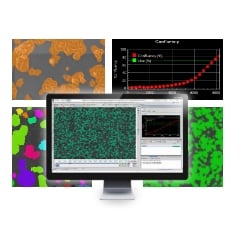 The following application softwares are for the purpose that specific image analysis can be performed simply using Nikon's Image Analysis Software in the field of research and development. As we have developed image analysis algorithms for many years and accumulated know-how, we have started to provide add-on Modules.
See here for details
Cell observation device


BioStudio-T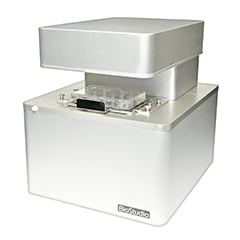 The BioStudio-T offers a unique imaging platform with a stationary sample surface and moving objective lens. This configuration allows observation of mechanically sensitive samples, such as stem cells, with minimal perturbation.
See here for details
Nikon will contribute to solving your cell culture issues with its image analysis
techniques and know-how on cell quality evaluation.
Click here


Inquiry Form