User interviews《Chiyoda Corporation》

Full-scale time-lapse tiled imaging can be performed by any user under identical conditions.


"This allows us to acquire reliable data for quality control, showing us the pathway to industrialization of cell production."

NOV 02, 2021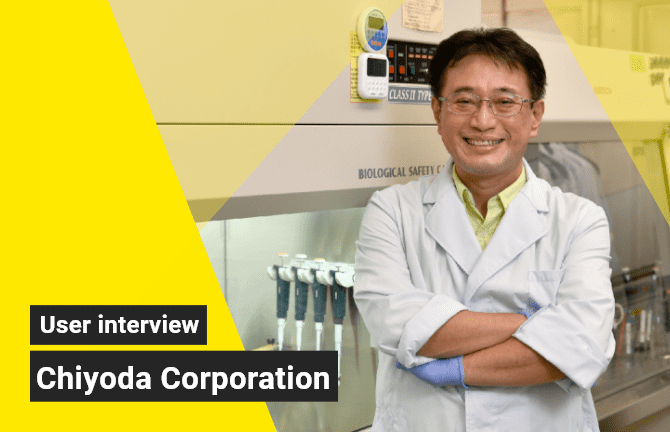 Chiyoda Corporation
Main Business fields
Integrated engineering (Consultation, planning, design, procurement, construction, testing, and maintenance of gas, electric power, oil, petrochemistry, general chemistry, and pharmaceutical equipment, as well as equipment for pollution prevention, environmental improvement, conservation, and disaster prevention. Development of oil, natural gas, and other mineral resources. Investment and financing for related businesses.)
Interviewee
Life Science Business DepartmentYuzuru Ito Ph.D.(Also, Professor, School of Life and Environmental Science, University of Tsukuba)
Adopted equipment/systems
Chiyoda Corporation creates infrastructure through engineering and works to solve diverse global issues. It is working to grasp the extent of unmet medical needs around the world and is focusing on the Life Sciences Business to add more value as a bio-life sciences solution provider. Nikon's BioStudio-Tallows images to be captured by any user under identical conditions. It contributes to the establishment of next-generation manufacturing process technology through the acquisition of image data that withstands the analysis requirements of cell mass production. Nikon is helping Chiyoda Corporation enter the field as a cell culture CRO (contract research organization) and CDMO (contract development and manufacturing organization).
We spoke with Professor Yuzuru Ito, a research leader, about the issues faced before the Nikon equipment was installed, and the effects that resulted from its installation.
Challenges prior to introduction
Various conditions, such as different days, users, and facilities, had to be considered when evaluating cell culture conditions. The main difficulty was that measurement conditions had to be consistent.
Effects of introduction
Observation and image capture can be performed by any user under identical conditions. Tiled images provide more comprehensive and balanced information and allow users to see a complete overview. In addition to these features,
time-lapse
imaging can be utilized to understand changes to the cell over time, while also enabling users to go back through images to investigate variations in quality. Data is stored as images, so it can be shared with and understood by people both inside and outside the company.
Future expectations
Cell observation is a widely recognized method of quality control. It is the basis for shared understanding among people in research, development, and manufacturing, so there are strong hopes of support for creating unified standards for cell observation, imaging, and data presentation methods.
Chiyoda Corporation innovations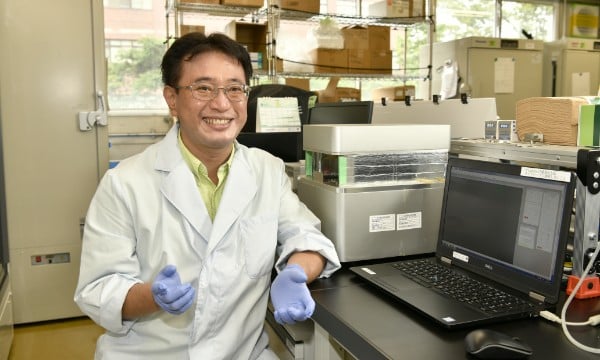 Aiming to industrialize the cell culture process and participate in CRO and CDMO businesses
Chiyoda Corporation is generally recognized as a chemical and energy-related integrated engineering company. Why is an EPC (Engineering, Procurement and Construction) business like Chiyoda working on regenerative medicine?

From the start, our strength has been building equipment that reflects the wishes of other companies. In the field of life science, we have been working on the design and construction of low-molecular-weight pharmaceutical production facilities (finishing and API: active pharmaceutical ingredients) over more than 40 years, and possess experience gained through over 400 projects. We are expanding our knowledge of biotechnology and cellular technology and accumulating achievements in facilities for new fields, such as high-molecular-weight pharmaceuticals and regenerative medicine. We established the Life Science Division in April 2021, enabling us to start industrializing the cell culture expansion process and move into cell culture CRO and CDMO businesses.
The market for products related to regenerative medicine is currently expanding, isn't it?

That's right. The market isn't that large yet. It's a challenge for us to get a regenerative medicine CDMO business off the ground. That is why I think we first need to thoroughly understand cells and ensure that we can perform appropriate quality control. So, we are now culturing cells in a culture room at the University of Tsukuba using the university's special collaborative research project system and accumulating knowledge through cell-based assay research.
Challenges prior to introduction

Consistent imaging conditions are essential for a common understanding of phenomena
What issues have you faced during your research?

Cell culture is such a simple term, but it is very profound. We have to ensure that the cell culture conditions are consistent in order to perform identical experiments. The conditions we need to be concerned about are numerous, so it is a complicated task to discover which of them affect the stability of the culture. It requires a lot of trial and error and sharing of information between members of the team to find the optimal culture conditions. The real difficulty, though, is accurately capturing, recording, and communicating the state of the cells.
That does sound difficult.

That's why we change culture conditions, such as different days, users, and facilities, to gather data. A cell's quality is observable via its shape and movement. Therefore, in a cell culture, microscopic observation and accurate image data are essential for understanding the state of cells, such as cell shape, proliferation rate, and degree of proliferation. However, for this to be 'meaningful data', the condition of cell cultures must be consistent between imaging experiments.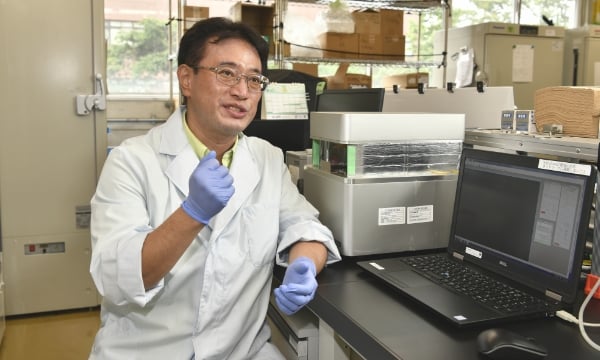 Obtaining a complete overview to more fully understand cell condition and response
Could you give us a little more detail?

There were two major issues. One was maintaining the reliability of image data at a certain level. The university has members from various backgrounds and of varying skill levels, from graduate students to principal investigators. There is also surprisingly high turnover in the university's laboratory. Experiments and analyses must be repeated under the same conditions and the data recorded over time, so a huge number of images are required, and each must be taken under the same conditions.
If the conditions aren't consistent, does that make it difficult to determine the cause of a problem if one occurs?

Yes. If the brightness, color, or focus of the recorded images are different, there is no common criterion with which to compare and understand the results of the repeated experiments and data recorded by multiple team members. We needed to prevent the loss of knowledge related to data acquisition, such as the imaging conditions, and the challenge was to establish a data acquisition system that would ensure consistency even if members switched in and out.
So the imaging needs to be done in the same way, regardless of who is doing it. What was the other issue?

Observing a complete overview. Snapshots (images that capture a moment) do not always accurately reflect the whole situation. Therefore, making conclusions based on snapshots alone is risky. Cells in the culture dish are unevenly distributed, so there's no way to comprehend their actual overall condition without viewing the entire surface. We needed a huge number of images that could be taken by any user under identical conditions and used to provide a complete overview for analysis. An observation system that could solve these two issues was essential. That is why we decided to install the BioStudio-T, a cell observation system that allows users to set the imaging conditions precisely and achieve high-resolution time-lapse tiled image acquisition.
Effects of introduction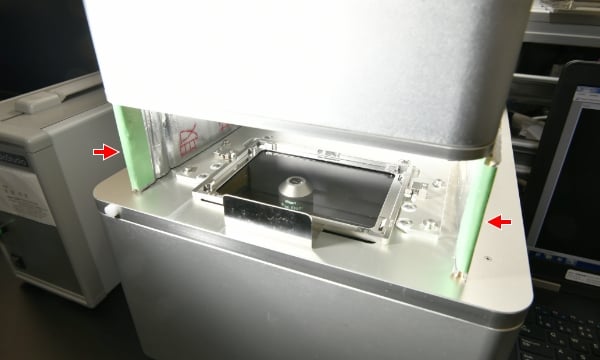 Investigating the causes of varying quality with time-lapse imaging under consistent conditions
What have been the results of employing the BioStudio-T?

It enabled us to obtain data over time under identical conditions. Analyzing the time-lapse imaging data allows us to understand the culture process. When the same repeated procedure produces different results, the system allows us to go back through the data and investigate the cause. This has not only helped us improve our level of understanding of phenomena, it has also made it easier to accurately share the acquired data with people both inside and outside the company.
So it helps you determine which process leads to variations?

That's right. In the process of working with cells, the most important thing is to understand cell condition and response. To achieve this, we observe changes over time, especially short time intervals, when commencing cell culture experiments that are completely new to us. It's important to gather as much data as we can at the beginning. Building up evidence in this way improves efficiency in the later development phase. We take a huge number of images in the initial phase of research and development. Variations in imaging can occur even from a single user, so it frequently happens in an organization where staff are often switching in and out. That is why the BioStudio-Tis indispensable for establishing the next-generation cell manufacturing process technology that we are working towards, as it allows users to set the imaging conditions using precise values and enables them to take images under identical conditions at any time.
Acquiring essential data for cell quality control with the BioStudio-T
What are you imaging right now, specifically?

For example, images of vascular networks made of vascular endothelial cells are taken and analyzed to determine length, number of branches, etc. The appearance changes depending on exposure and contrast of the background. If the images are not taken under identical conditions, it becomes difficult when analyzing them to recognize what is a blood vessel, what is a dead cell, and what is the gel used to support the sample. Bringing in the BioStudio-Thas made it possible to consistently set the optimal imaging conditions, enabling us to compare and examine image data acquired by different users at different times using the same algorithm.
And this helps with cell quality control during manufacturing?

Absolutely. Cell manufacturing is performed at multiple locations. Sometimes techniques established at one location are transferred to another. When that happens, it is very important to follow one procedure manual with a uniform format. Currently, we have an organic collaboration system established between the laboratory at the University of Tsukuba and the laboratory at Koyasu (Koyasu Office and Research Park). We have started using the experiment system at the University of Tsukuba within the company and have successfully cultivated cells of the same quality. We are now able to produce the same results at Koyasu as those from the research begun at Tsukuba. This is very significant in terms of quality control.

Future expectations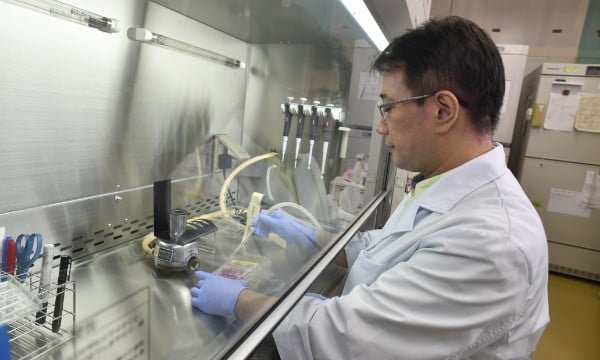 Creating standards that facilitate cell observation, imaging, and the sharing of data
Are there any services or features that you are expecting from Nikon regarding advancements in the life sciences industry in the future?

Cell observation is a widely recognized method of quality control, but the drawback is that observations are difficult to quantify and verbalize, making it complicated to convey to others any minute differences in cell shape. This also makes it hard to verify a causal relationship with intracellular phenomena (metabolic capabilities, cell potency, etc.). Cells can become detached, for example. There is no single cause of this. How can we connect the cause to whatever is happening in the background based on 'detached' image information? What parameters should be recorded to help connect events and intracellular phenomena? The ideal would be for everyone working in life sciences to take on the battle together.
It's a joint challenge for all of us as one team, isn't it?

I would like Nikon to create mind-sharing opportunities, such as guidelines for standardizing the imaging process that everyone can follow, supporting collaboration by making it easier to analyze image data together. To be specific, I would like a systematic strategy for recording cell morphology in microscopic images using an unbiased index. Those of us in the lab should take the lead in giving that index meaningful context, but some support would help immensely.
Nikon would indeed like to help with this as much as possible. Thank you very much.
*All information is current as of the time of the interviews.
Nikon will contribute to solving your cell culture issues with its image analysis
techniques and know-how on cell quality evaluation.
Click here


Inquiry Form