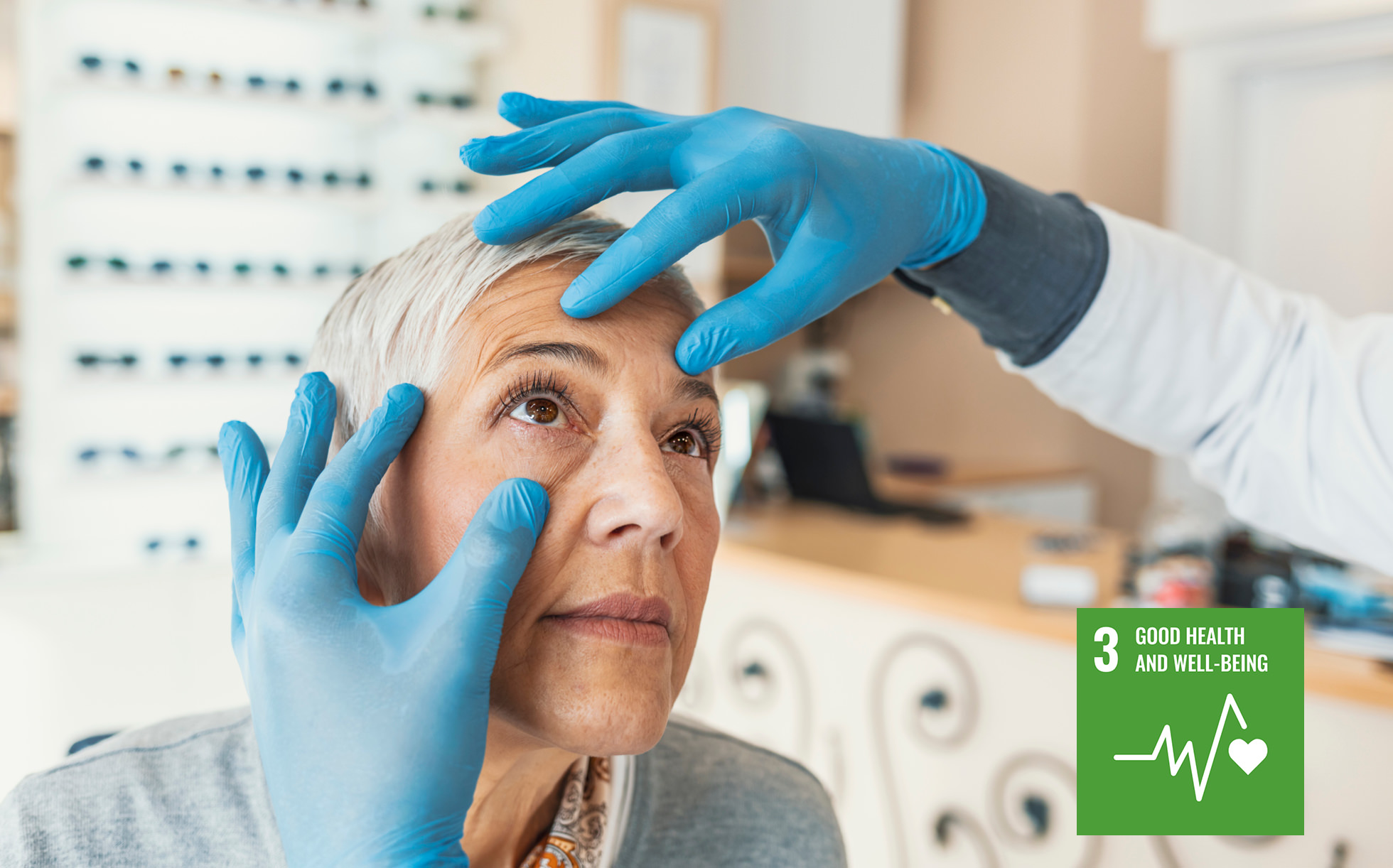 Approximately 80% of the information we receive is visual. This means that eye health has a significant impact on a person's quality of life. It also means that accurate diagnosis in ophthalmology and the treatment that follows play an important role in supporting a comfortable life. Ishizuchi Eye Clinic in Niihama City, Ehime Prefecture, Japan has introduced a 'direct microscopy examination of eye discharge' for diagnoses of eye diseases such as conjunctivitis, which enables greater speed and accuracy in both diagnosis and treatment. It also provides fascinating insight into how Nikon biological microscopes are being used in the field of community medicine.
A 'university hospital at a local scale' contributes to community ophthalmic medical care.
Ishizuchi Eye Clinic is located near Niihama Station, located in the eastern part of Ehime Prefecture. There are several skilled ophthalmologists who work at the clinic, which is operated by various accomplished staff, including professionally skilled orthoptists who specialize in eye examination and training to improve eyesight. Introducing cutting-edge inspecting equipment and surgical tools, the facility provides advanced and wide-ranging medical care that expands the possibilities for patient choice. "My aim is to offer the multifunctional benefits of a university hospital at a local scale," explains director Takashi Suzuki. He is also currently an associate professor at the Omori Medical Center of Toho University's Eye Center, in Tokyo. While providing education and guidance to the younger generation in the capital, he is working to advance medical care and apply that knowhow to improve ophthalmic medical care in his own local area.
One representative example of Dr. Suzuki's activities is his introduction of the direct microscopy examination of eye discharge. This test is extremely effective for diagnosing conjunctivitis which is one kind of eye infection, and contributes to faster and more accurate treatment. However, this test is not currently widely adopted. In addition to his specialism in eye infections, Dr. Suzuki also actively gives lectures throughout Japan and shares information on social media, in order to spread the word about these examination methods to more ophthalmologists and clinics.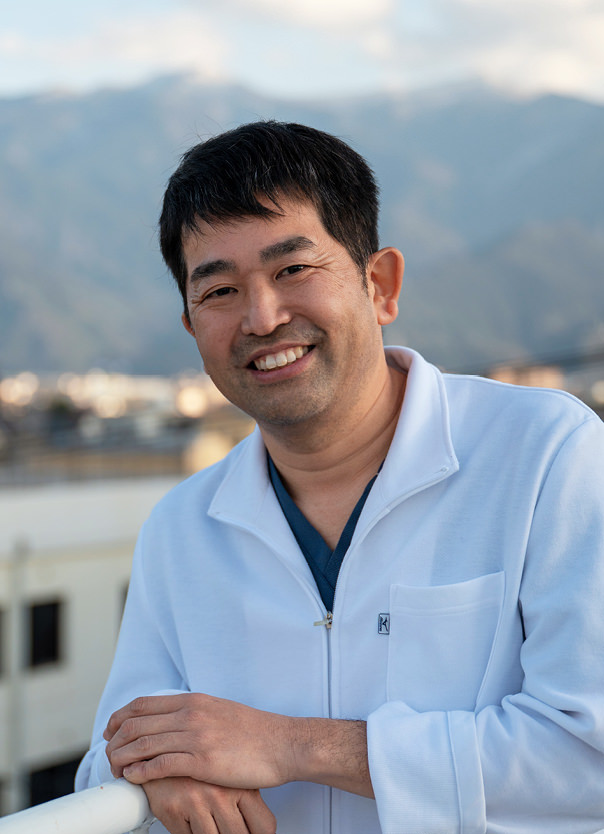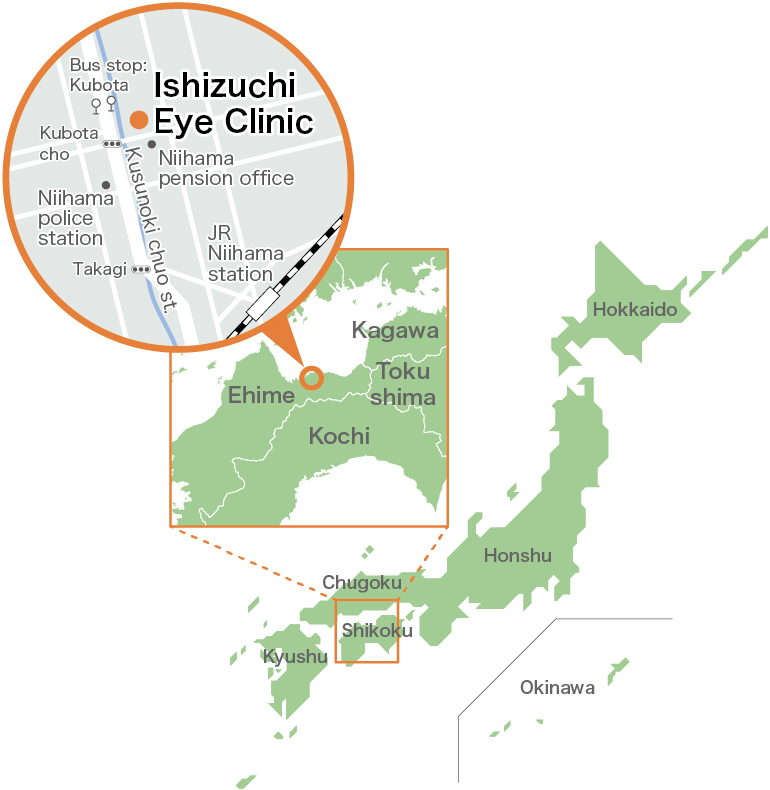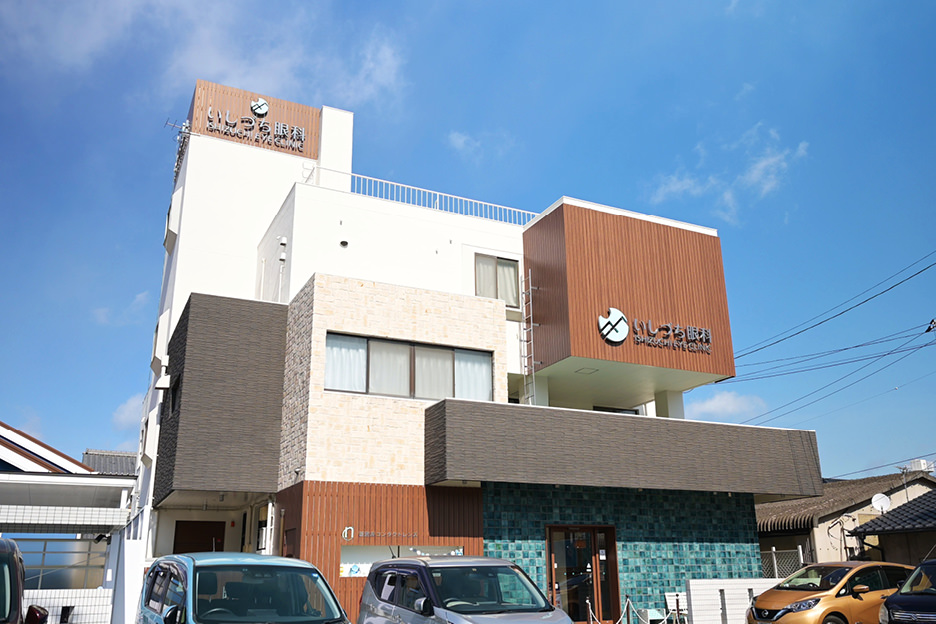 Direct microscopy examination of eye discharge for a faster and more accurate diagnosis.
So, what exactly is a direct microscopy examination of eye discharge? And how does a microscope help? To start with, the examination is mainly used for diagnosing conjunctivitis. Conjunctivitis can be bacterial, viral, or allergic, and the treatment methods and prescription drugs vary for each. However, a symptom of all types is inflammation of the conjunctiva*1, which is difficult to spot simply by looking. If the cause is not identified and diagnosed immediately and accurately, treatment can be delayed and symptoms prolonged.
For the direct microscopy examination of eye discharge, the patient's eye discharge is collected with a cotton swab, or similar, applied to a dish, then stained for observation under a microscope. In this way, bacteria and inflammatory cells that cannot be seen with the naked eye can be determined and the cause identified. Once this is achieved, an ophthalmologist can accurately explain and treat the condition, then prescribe drugs such as the more effective eye drop, meaning the patient can expect a speedy recovery.
The examination takes about 10 minutes. All that's required is a microscope with a digital camera or a monitor attached to realize more reliable ophthalmic medical care anywhere in Japan. Dr. Suzuki says, "You do need the technique to read images and identify bacteria and inflammatory cells, but you can learn this in a relatively short period of time." He is spreading the knowhow of this test nationwide as an instructor of skill transfer*2 sponsored by the Japan Association for Ocular Infection.
*1

The conjunctiva is the mucous membrane that covers the back of the eyelids and the surface of the eyeball up to the circumference of the iris.

*2

'Skill transfer' refers to the handing down of a certain technology or skill to those who do not possess it.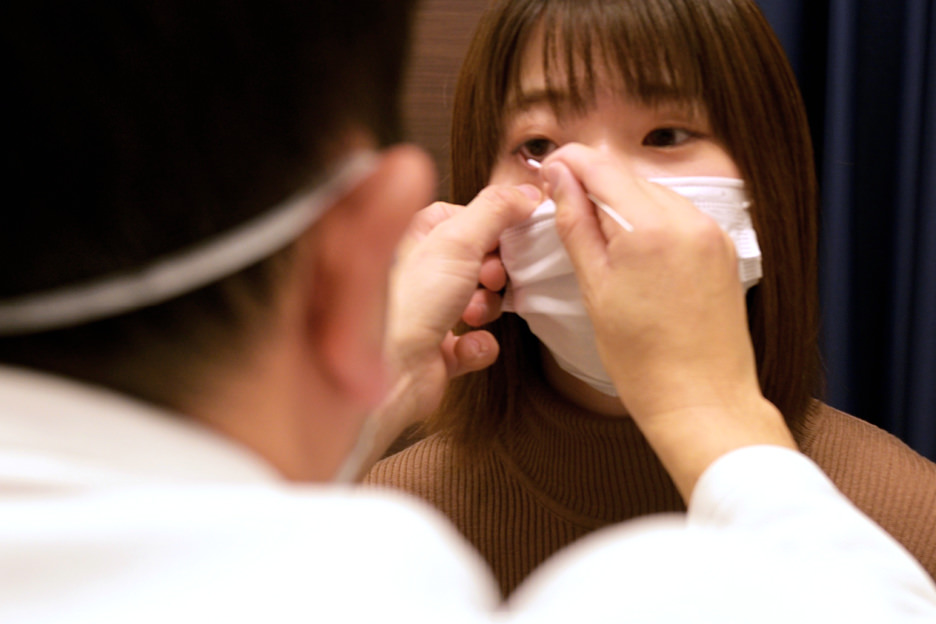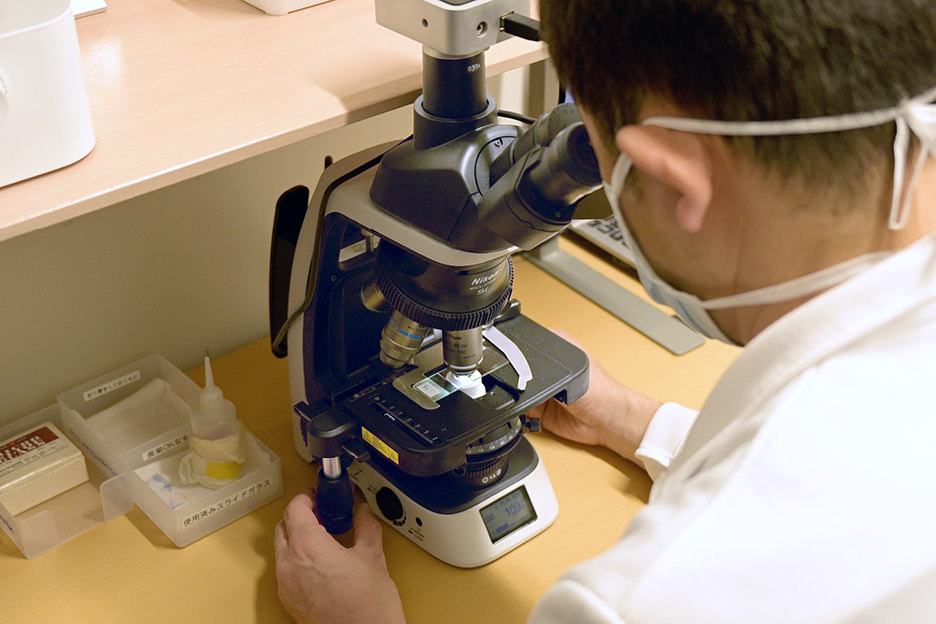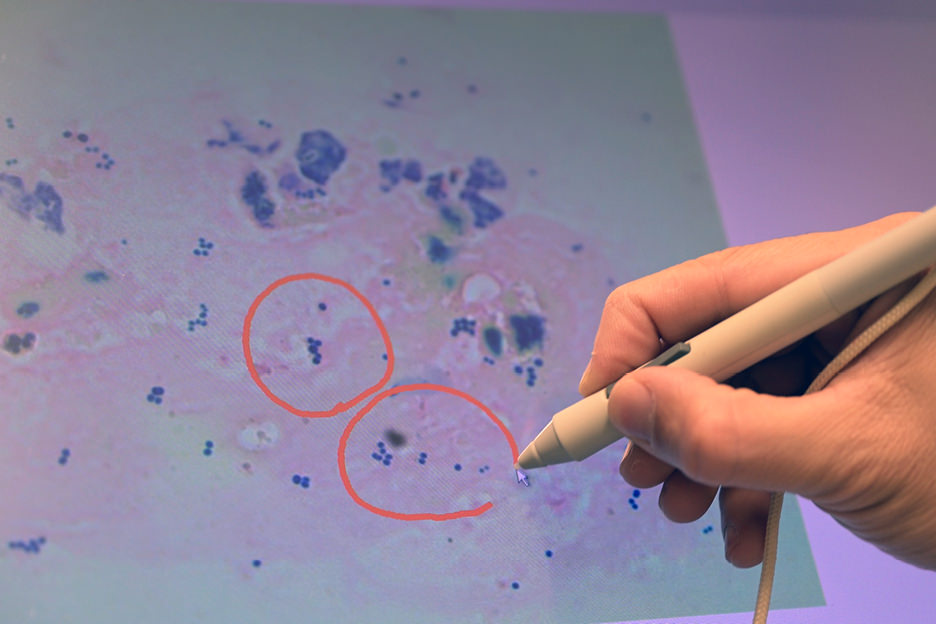 A microscope supporting the relationship between an ophthalmologist and patients.
Currently, Dr. Suzuki is using a Nikon ECLIPSE Si upright microscope for the direct microscopy examination of eye discharge. When asked why he chose this particular microscope, he answered simply, "It was compact in size and didn't interfere with anything when placed on the desk in the clinic. It was also easy to operate and provides us with beautiful images."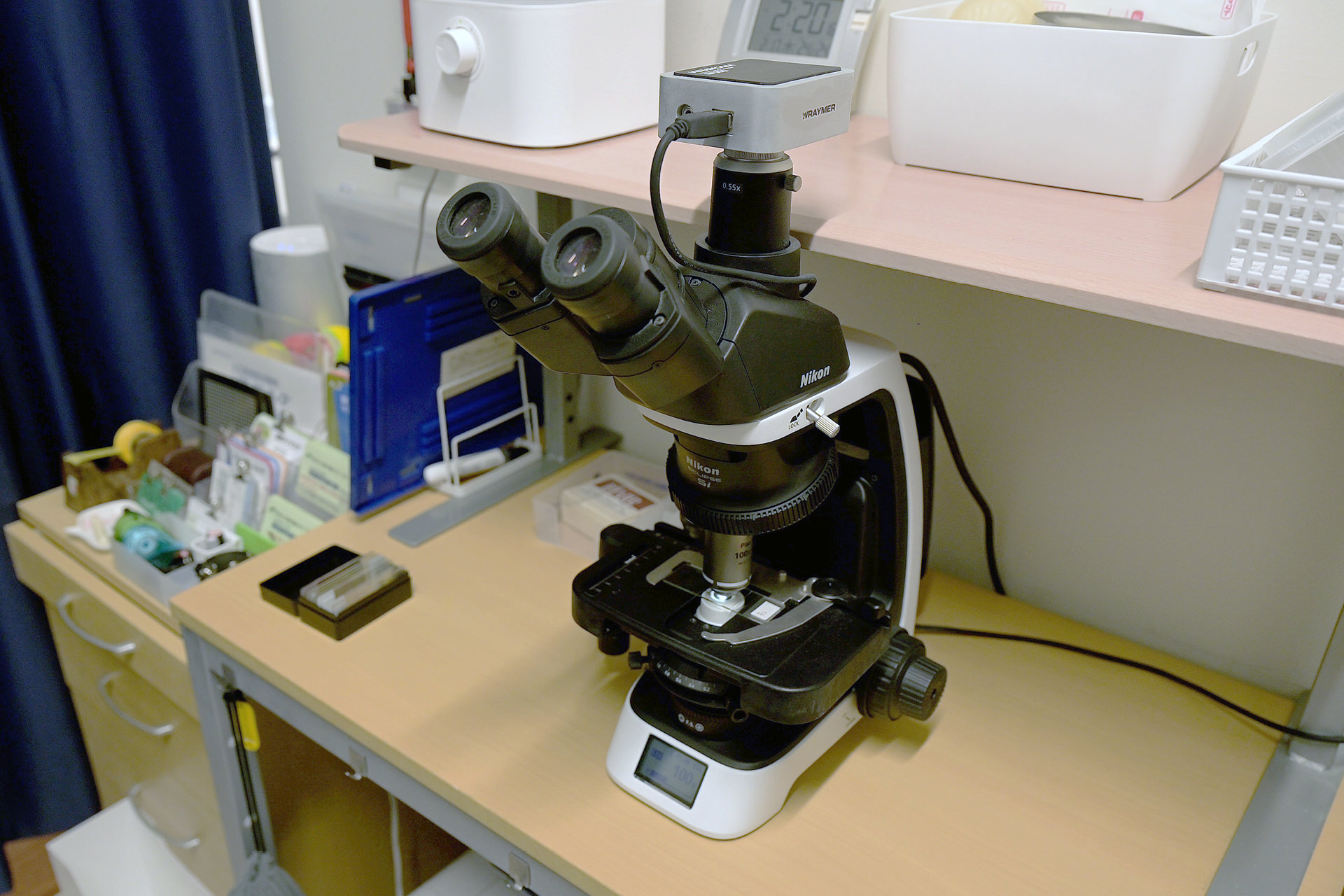 "I examine the patient's eye at the same place I conduct my medical consultation. While showing images to the patient, I can explain the name of the condition, the treatment method, and the prescription drugs to be given," he explains. "By delivering faster and more accurate diagnoses, patients can feel safe and I can gain their trust."
When an ophthalmologist explains the disease to a patient, the first thing he or she wants to know is often, 'Is it infectious?' or 'How long does it take to heal?' In that situation, being able to clearly identify the cause means the doctor can deliver a clear answer.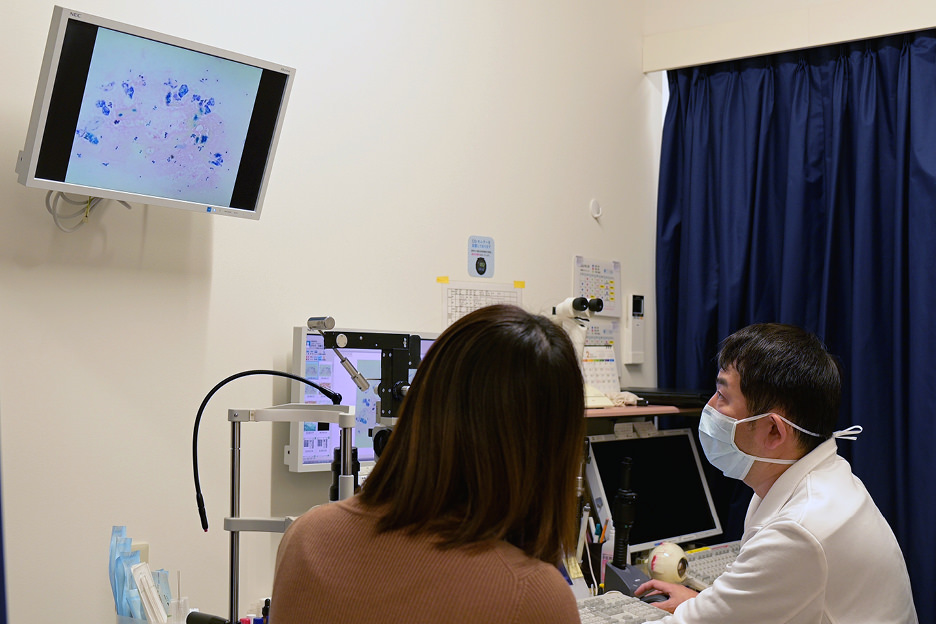 Microscope images captured by the ECLIPSE Si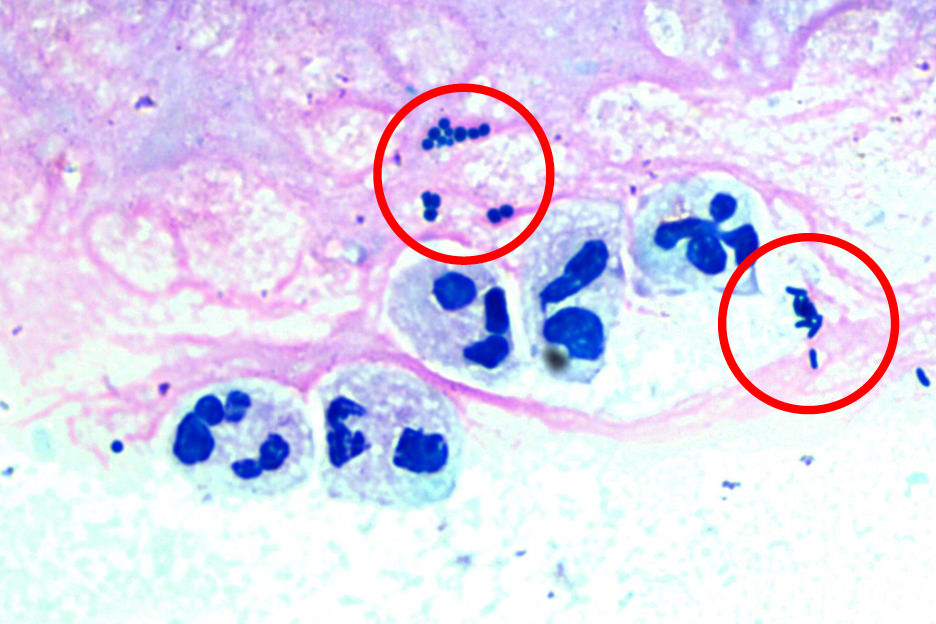 In addition to being director of an eye clinic that contributes directly to the community, an associate professor at a university hospital, and an instructor for the direct microscopy examination of eye discharge, Dr. Suzuki is also active as a coordinator connecting medical professionals, patients and companies. He delivers patient feedback obtained from medical sites to companies in the medical field to support them in developing products that better match patients' needs. Through this, he facilitates further improvements in the quality of ophthalmic medical care. "Medical progress cannot be achieved only in the medical field. And it cannot be attained only by companies that provide medical equipment or devices. I really don't think it can be effectively realized unless there's a triangle of three parties (patients, medical professionals, and healthcare companies) working well together."
Nikon continues to listen attentively to many voices, from medical professionals to patients, using their insights to help design and manufacture even more products that meet the same superior standards — in support of achieving the goal of highly accessible medical care for the future.