Accurate measurement MSC cell number and growth rate in an non-exfoliating and fast way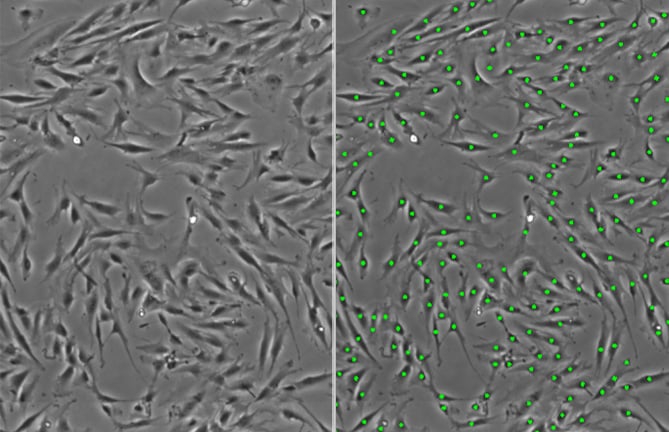 Point
Changes in the number of human somatic stem cells , such as MSCs (mesenchymal stem cells ), can be accurately measured over time without having to remove cells from culture.
Overview
Human somatic stem cells, such as MSCs , can only undergo a limited number of cell-division cycles, and the proliferation rate declines following each passage. Therefore, it is important to have a clear understanding of the number of passages appropriate for the cell type in question during process development. If improper culture conditions change cell characteristics, anomalies in proliferation may result. The cell proliferation rate is thus an important index for the evaluation of culture conditions.
Sometimes, proliferation cannot be confirmed in primary culture. In such a case, the cell count must be monitored over time to determine whether or not to continue that culture. Operator judgment is generally informed by visual observation, which may compromise sensitivity.
Current
Issue-1


Traditional cell counting methods require a lot of work and damages cells.

Traditional cell counting methods, for example using a hemocytometer, require dissociation of cells from the culture vessel. This operation requires significant time and energy on the part of the operator, and also damages cells.
Issue-2


It is impossible to continuously count the number of cells.

Ideally, cell proliferation rate is measured over a specified time period at regular intervals, and without removing cells from the vessel. Measurement method requiring cellular trypsinization is invasive, and require many samples seeded under equivalent conditions. Cells are counted by invasive treatment with every measurement, posing a challenge to collecting a sufficient number of samples.
Solution
Non-invasive phase contrast image analysis allows for the number of cells in culture to be measured over an extended period. Cells may be moved to the next step of the culture process without being wasted.Cell manufacturing processes for regenerative medical products often require more cells than can be readily secured. Therefore, a non-invasive, non-staining inspection is desired in order to conserve cells.
In autologous cell culture, it is difficult to implement a strict manufacturing process, so a procedure that is flexible within a predefined allowance should be designed in order to be able to adapt to the observed state of proliferation.
For such process control, non-invasive measurement using automatic image acquisition and analysis enables real-time monitoring of cell proliferation condition.
In developing a flexible manufacturing process, a system such as the BioStation CT, a cell culture observation system with built-in microscope and camera inside its incubator , and the BioStudio-T, a cell observation system which may be installed inside an incubator, reduces cell stress while enabling real-time observation. The entire vessel can be monitored using the image stitching function of these systems.Cell image analysis software CL-Quant add-on ModuleCell culture observation device BioStation CTCell observation device BioStudio-T
Utilization scene
As an evaluation criterium for establishing cell culture processes and procedures
Validation of culture conditions
Understanding the passage number and population doubling number, medium composition, passaging and procedures, etc.
Detection of cells which proliferate abnormally due to transformation
Validation of culture environment (temperature, oxygen concentration, etc.)
Comparison of proliferation among cell lines
Cell image analysis software


CL-Quant add-on Module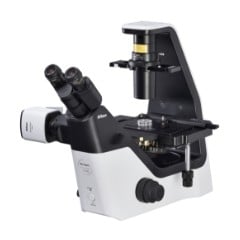 CL-Quant Add-on Module is an add-on software for CL-Quant, specialized for individual cell's characteristics and analysis to make CL-Quant easier to use. With the easy 3 steps, cells can be evaluated efficiently even if you are new to image analysis.
See here for details
Cell culture observation device


BioStation CT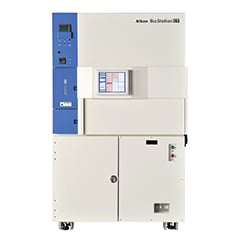 Up to 30 culture vessels can be automatically observed by phase contrast/fluorescence in a stable culture environment of an incubator, reducing the burden on developers. Its excellent position repeatability expands the possibility of live cell imaging for a wide range of cell types.
See here for details
Products and Promotions may differ based on your region
Cell observation device


BioStudio-T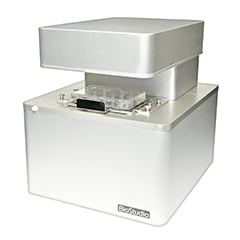 The BioStudio-T offers a unique imaging platform with a stationary sample surface and moving objective lens. This configuration allows observation of mechanically sensitive samples, such as stem cells, with minimal perturbation.
See here for details
Nikon will contribute to solving your cell culture issues with its image analysis
techniques and know-how on cell quality evaluation.
Click here


Inquiry Form