User interviews《Hitachi Global Life Solutions, Inc.》

A compact system that supports decontamination with hydrogen peroxide and is able to deliver high image quality.


"The BioStudio-mini was ideal for incorporation into a biosafety cabinet."

NOV 02, 2021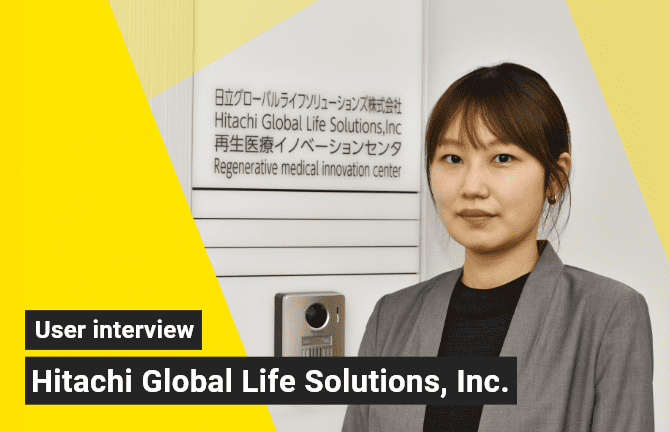 Hitachi Global Life Solutions, Inc.
Main Business fields
Sales of household appliances, air conditioning units, equipment and machinery, providing engineering and maintenance services, and delivering product solutions using digital technology
Interviewee
Air Conditioning System Solution Center CPF Business Promotion GroupFumika Shinto
Adopted equipment/systems

Hitachi Global Life Solutions, Inc. (hereinafter Hitachi GLS) provides valuable solutions for customers' diverse business settings and lifestyles through commercial air conditioning units, energy systems, lighting, residential equipment, etc. Nikon's BioStudio series* has been adopted into the Hitachi GLS 'Next-generation Modular CPF (Cell Processing Facility)'. We spoke with Ms. Fumika Shinto, who is in charge of regenerative medicine (mainly proposals for CPFs and ancillary equipment), about the issues faced prior to CPF installation, and the effects that resulted from its adoption.
*BioStudio series is optional.
Challenges prior to introduction
The challenge was to create a comprehensive solution that would enable manufacturing in a completely sterile environment. It is essential that not only just the CPF, but also all of the equipment within it must be structured and composed of materials that can withstand the
hydrogen peroxide
decontamination agent, with a design that does not disturb the airflow.
Effects of introduction
The BioStudio series systems can be decontaminated with
hydrogen peroxide
. The
BioStudio-mini
is compact enough not to disturb downflow in a
biosafety cabinet
, while also delivering high image quality so that users can easily observe cells and obtain the information they need. It can be mounted flush with the work surface so that the workspace can be utilized effectively without impairing work efficiency.
Future expectations
"Co-creation" of a platform that can be used for quality control of manufactured cells is currently underway. It is expected that the efficiency of the manufacturing process can be further improved through analysis of the cell image data. In the future, this will greatly contribute to the industrialization of cell manufacturing.
Hitachi GLS Innovation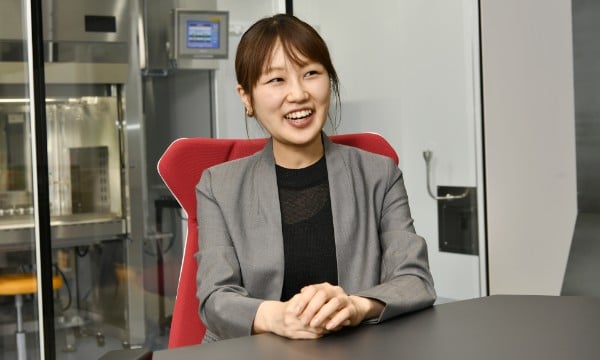 Establishing a CPF that prevents contamination and leakage of pollutants.
Hitachi GLS has devised a CPF with a revolutionary concept. Could you explain what a CPF is?

Certainly. CPF stands for Cell Processing Facility. It's a manufacturing facility that prepares cells. Hitachi GLS supplies a large number of CPFs in Japan.
What is generally required of a CPF?

Regenerative medicine will eventually be administered to patients. This means that bacteria must absolutely not be allowed to contaminate the product during the manufacturing process. It might seem possible to apply sterilization treatment at the final stage of production, but actually, in the case of regenerative medicine, this would destroy the cells in the product as well. Therefore, it's extremely important to manufacture the products in a completely sterile environment. Although, if a patient is suffering from some kind of infectious disease, the cultivated cells may also be infected, so biohazard control measures also need to be taken.
So it is vital not to let in or emit any source of pollution or contamination?

Absolutely. That's why, as with semiconductor manufacturing facilities, you can't have air conditioning and room layouts that allow air to flow out of the manufacturing room. We carefully devise the layout of the manufacturing room and the surrounding rooms and then create 'mountains' and 'valleys' of air by building positive or negative pressure in each of the rooms. We design the CPF so that we can effectively control the flow of people, things, and air.
Challenges prior to introduction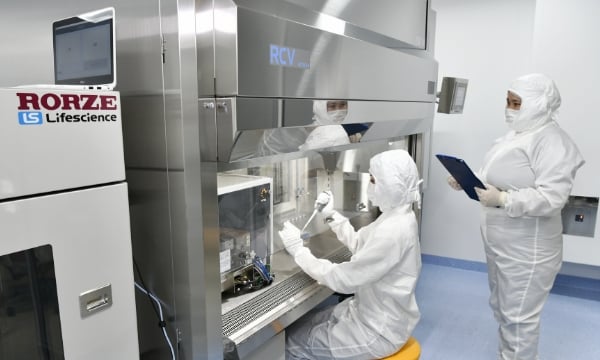 The BioStudio-mini contributes to maintaining a sterile environment throughout the process.
The CPF looks to become an essential element in advancing the industrialization of regenerative medicine. Could you tell us what the difference is between conventional pharmaceutical manufacturing facilities and those for regenerative medicine?

For conventional pharmaceuticals, more of the process is mechanized (line production), so we clean the filling area where a high degree of cleanliness is required. The concept has similarities with semiconductor manufacturing. The end product is also sterilized to ensure that it's aseptic. However, regenerative medicine often involves manual cultivation. Also, as I mentioned earlier, the product cannot be sterilized at the final stage of production, so it's absolutely essential to carry out the manufacturing process in a sterile environment.
How does Hitachi GLS ensure a sterile environment in the CPF?

We solve this issue by introducing an optional function that enables decontamination of the entire cell preparation room. Hydrogen peroxide is employed as a decontamination agent, so the equipment installed in the facility must be structured and composed of materials that will not rust or otherwise deteriorate with the use of hydrogen peroxide. This is why the BioStudio-mini, which is chemical- and water-resistant, is ideal for use as the cell observation system, and many units can be incorporated into thebiosafety cabinet.
Effects of introduction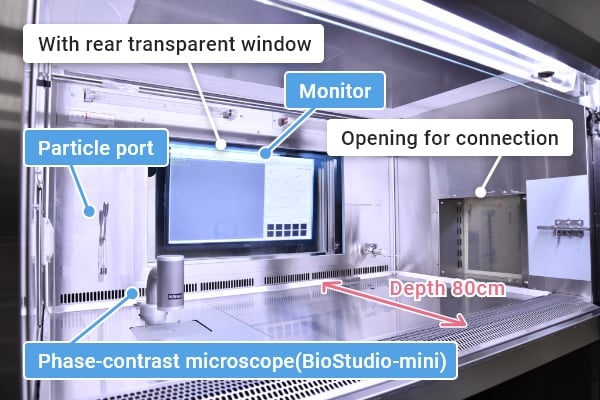 With its compact size, high image quality, and resistance to decontamination agents — the BioStudio-mini was the most suitable for integration.
How user-friendly is the BioStudio-minibuilt into the biosafety cabinet?

As the BioStudio-minican be decontaminated with hydrogen peroxide, it's ideal for use in biosafety cabinets that require a high degree of cleanliness. It's also extremely compact, which is very useful because it doesn't disturb the airflow or downflow inside the biosafety cabinet.
So the advantages of the BioStudio-mini are that it can be effectivelydecontaminated and doesn't alter the downflow. Does it have any other particularly useful aspects?

The top deciding factor is its compact size, but it also delivers high image quality. If the device only needed to be small then there would be many other options, but considering that the BioStudio-mini offers options in details such as the range of objective lens magnifications, and it can capture images in high quality for more accurate information gathering, we thought that Nikon offered the most suitable system.
Thank you.

Another positive point is that it allows the user to observe the sample without taking it out of the biosafety cabinet. Images can be displayed on the wall monitor of the biosafety cabinet. This is a huge advantage as it allows the user to move on with observation smoothly while performing cultivation work within the biosafety cabinet. It greatly improves work efficiency and is extremely effective for maintaining a sterile environment.
Another advantage is that the BioStudio-mini can be mounted flush with the workbench.

The workbench in the biosafety cabinet can become cluttered with cultivation materials and reagents, making workspace limited. The BioStudio-miniis excellent because it can be mounted flush with the surface of the workbench so that it doesn't impede the working area.
So having the device set flush to the table is an advantage?

Very much so. If the device sits higher than the work surface, culture containers and flasks might catch against the side when they are moved around on the table. The culture liquid might spill or the container could break, which would ruin the user's work. Because the BioStudio-minican be mounted flush with the table surface, it doesn't get in the way and allows the user to smoothly carry out his or her work, which is a huge advantage.
Additionally, the utilization of optional jigs makes it easier to position culture containers, which has led to improved work efficiency. Since the cells can be 20 or 30 μm in size, it's very important to be able to position them precisely during observation. This device is particularly useful for this kind of manufacturing where a sterile environment must constantly be maintained during operation.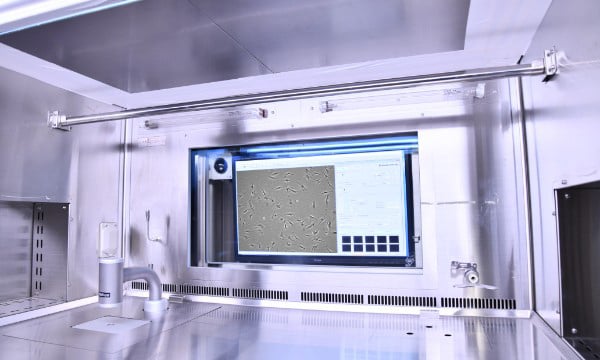 Are you using the BioStudio-minioutside of biosafety cabinets as well?

Yes. It's possible to install the BioStudio-mini in automated cell culture equipment. It can also be installed and employed within an incubator. Users must make certain preparations before entering the CPF, including putting on protective clothing, but they can check the condition of the cells on the monitoring system screen and office PC without having to enter the room at all, which is very convenient as it cuts out the need for such preparations and saves time. BioStudio-mini
Incidentally, we also have a Cyfuse Bio 3D Printer installed in the biosafety cabinet in the Regenerative Medicine Innovation Center.
Future expectations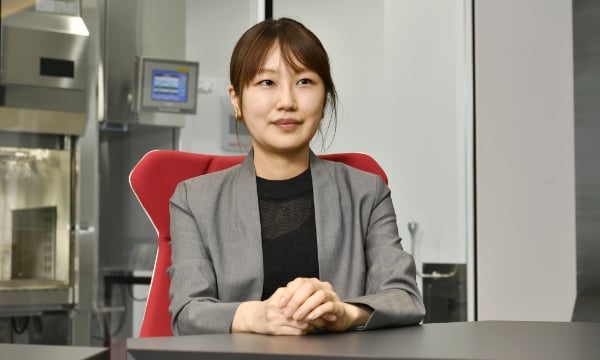 Global business development with superior air conditioning technology.
Another major feature of the 'Next-generation Modular CPF' is that it can be added to general office buildings.

That's right. A typical CPF requires ducts for air conditioning which occupy a one- to two-meter space above the ceiling, but it's difficult to secure that much space in existing tenant facilities. There's also usually very limited space available for construction, which makes the work more difficult and lengthens the construction period.
It's also likely to cost more, isn't it?

Yes. So, we solved this problem by developing the 'Next-generation Modular CPF' which employs a new style of construction instead of the conventional duct construction method. The modular CPF is a double-ceiling system in which a double ceiling space is provided above each room, air-conditioned air flows into the double ceiling, and clean air is supplied to the room. The FFU (Fan Filter Unit) installed on the ceiling of each room introduces clean air into the room and controls the room pressure. Since it can be installed even if the CPF installation space is limited, I think that we'll continue to see it introduced within tenant buildings that have limited installation space and construction time restraints.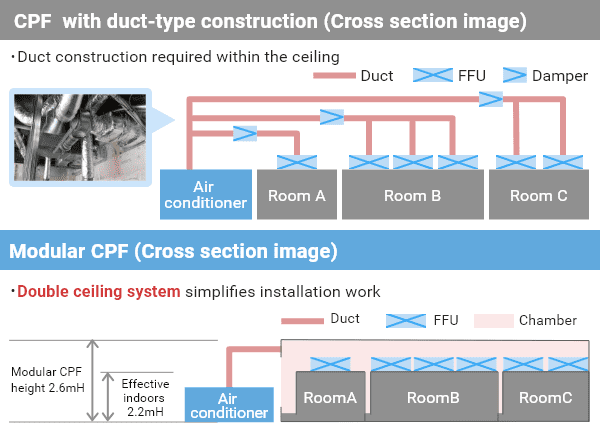 So that's why the CPF can even be installed in office buildings.

That's right. The modularization makes it possible to provide CPFs of exactly the same standard of quality all over the world, which is another major feature. For customers considering international business development, production with the same high level of quality is realized by combination with procedures for production management and quality control that have been standardized in Japan. We would like to expand the 'Next-generation Modular CPF' globally, as well as biosafety cabinets that incorporate the BioStudio-mini.
Aiming for global expansion as one team.
Are there any services or features you expect from Nikon regarding future expansion of your new CPF in the market?

Nikon possesses image analysis technology that can quantify the number of cells and confluency from observational images of cultured cells. We hope that this can be used to boost the efficiency of the manufacturing process.
We also think it could be highly compatible with 'Lumada' (the generic name for solution service technologies utilizing Hitachi's advanced digital technologies). Specifically, we're trying to 'co-create' a platform with Nikon — a platform that can be used for quality control of cell production by utilizing CPF operation data and image data taken with BioStudio series systems.
What is Hitachi GLS's vision for the future?

We're looking to develop a CPF package solution with our co-creation partners. We're seeking to create an environment where cell production can be carried out with the same advanced level of quality anywhere in the world by providing the standardized design of the 'Next-generation Modular CPF' as an all-in-one package with manufacturing protocols and specified equipment, cultivation equipment, and IT systems. We hope this will lead to the industrialization of cell production. Together with Nikon and Cyfuse, we want to expand globally as one team.
That's a wonderful vision. I hope that Nikon can play an important role in that. Thank you very much.
*All information is current as of the time of the interviews.
Nikon will contribute to solving your cell culture issues with its image analysis
techniques and know-how on cell quality evaluation.
Click here


Inquiry Form